Most aging adults will eventually reach a point where they need assistance in their day-to-day life.  For many elderly people, being able to age in place in the privacy of their own home, rather than at an assisted living or nursing home facility, is important to maintaining a good quality of life.  
As the family member, spouse or friend who is ultimately responsible for their care, you may be wondering what at home care services are available, and which will be best for your loved one in this season of their life.  This article will walk you through the in home care definition, define differences between in-home care and home health care, answer some of your biggest questions on the subject and point you towards additional resources.
What is In-Home Care?
In-home care includes a wide variety of non-medical services that allow your senior loved one to continue living safely and comfortably in the privacy of their own home.  These "unskilled" services are provided by family members, home health aides or certified nursing assistants, and they allow elderly people to continue to function on a daily basis.
The services of in-home care include both hands-on needs, such as bathing and grooming, and hands-off needs, such as transportation and help with financials. 
Is Grocery Shopping For the Elderly Part of In-Home Care?
Yes, both "Activities of Daily Life" (ADLs) and "Instrumental Activities of Daily Living" (IADLs) make up the majority of all in-home care services for seniors.  
ADLs include activities that must be performed on a daily basis in order to survive.  Some of these ADLs include:
Bathing

Eating (but not preparing meals)

Bathroom needs

Mobility

Dressing
IADLs are activities, such as grocery shopping or housekeeping, that are not necessarily crucial for immediate survival but are ultimately necessary for a person to maintain a good quality of life at home.  IADLs may include:
Errands (such as grocery shopping and pharmacy pick-ups)

Managing all financials

Meal prep

Housekeeping

Communication

Transportation

Healthcare (such as attending doctor appointments and taking medicine as prescribed)
How to Know If Your Loved One Needs In-Home Care
It is quite common for adults over the age of 75 to need personal assistance with caring for themselves. In-home care can be a great option for seniors who may need help with some day-to-day activities, but who don't quite need 24 hour care, or are resistant to moving into assisted living.  Some of the signs that your loved one might need or benefit from in-home care include:
Increased forgetfulness

A recent fall or emergency room visit

An increased neglect in housekeeping, personal hygiene or maintaining financials

Signs of loneliness

Decreased mobility
Home Health Care vs In-Home Care
Finding the appropriate in home care services for seniors can initially feel daunting because every aging senior has different needs, medical histories and financial situations.  There are also many similar sounding terms that mean incredibly different things, particularly "in-home care" and "home health care."  It's important to educate yourself on the many different types of care resources in order to begin to make the best decisions for your aging loved one.
What is Home Health Care?
Home health care describes personal in home help that is medical in nature and conducted by licensed medical professionals, such as doctors, nursing professionals, physical therapists and occupational therapists.  These workers are sent from hospitals, public health departments or home health agencies.
What are the Main Differences?
While both Home Health Care and In-Home Care describe at home care services for seniors, there are a great number of differences between the two types.  
Services
The biggest difference is in the types of services that each provides.  The easiest way to think of it is that Home Health Care is medical in nature, while In-Home Care is generally not.
Home Health Care services:
Skilled Nursing

Speech language pathology

Home health aide services

Occupational therapy

Physical therapy

Monitoring vital signs

Feeding tube care

Catheter care

Medication reminders

Pain Management
In-Home Care services:
Bathing/dressing assistance

Bowel and bladder management

Cleaning and housekeeping services

Companionship

Meal prep

Functional mobility

Medication reminders

Pain management

Transportation

Engaging in hobbies

Supervision for dementia or Alzheimer's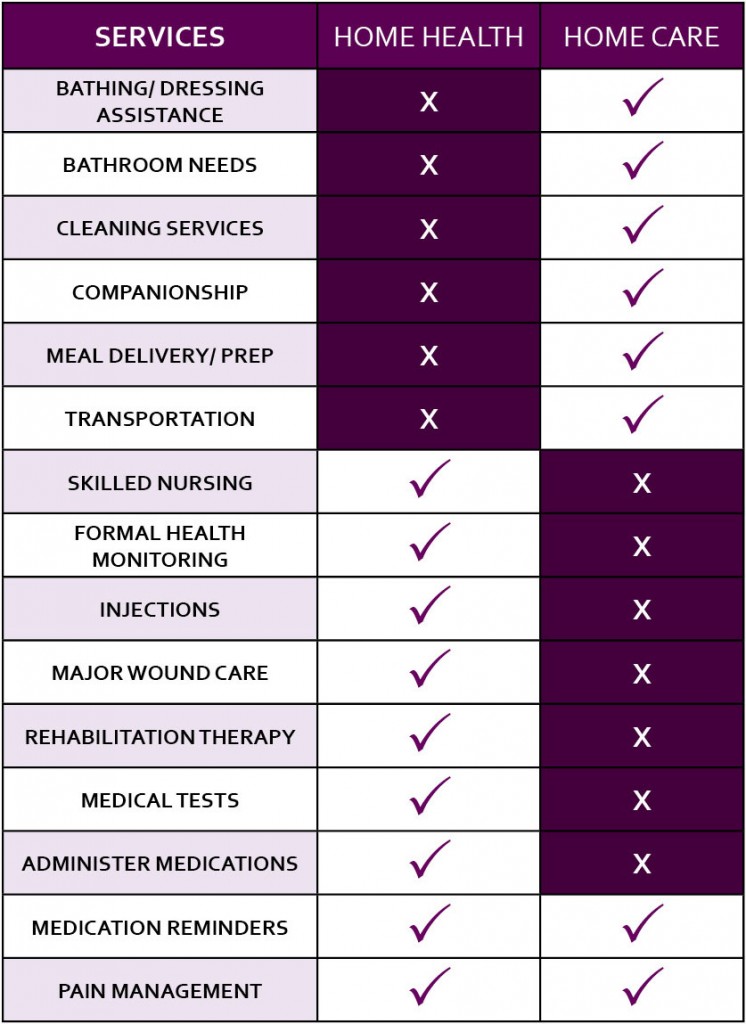 How to Pay Services – Is In-Home Care Covered By Insurance?
How to pay for in-home services is one of the most common questions we receive.  Many people are unsure what precisely is covered by Medicare, Medicaid and person insurance. Because Home Health Care is considered medical in nature and must be prescribed by a medical professional, it is covered by both Medicare and Medicaid, as well as private insurance.  
In-Home Care is generally paid either directly, through private pay, or by long-term care insurance, veteren benefits and Medicaid.  Medicaid coverage differs according to each state, however the qualifiers for most states will include in-home care services.
Home Health Care:
Medicare

Medicaid/Medicaid Waivers

Private Health Insurance
In-Home Care:
Medicaid/Medicaid Waivers (varies by state)

Private Pay/Out-of-Pocket

Long-Term Care Insurance

Veteran Benefits
Length of Care
In-home care continues for as long as your loved one would like, and as long as you are able to pay for the services.  

Home Health Care may be short-term (recovery from an illness or injury) or long-term (for chronic illness, injury or disability) but always needs to be prescribed.  Patients must meet specific requirements to remain eligible for these resources.
Frequency
In-Home Care services are generally provided on a daily basis and sometimes as much as 24/7.

The frequency of Home Health Care services varies quite a bit.  It might be as infrequent as once or twice a week for a rehab patient, or as often as every day for someone with a chronic illness or disability.
Personal Care Attendants
In-home personal care attendants (attendants) can be professional attendants from home care agencies, private nurses (providing "unskilled" services) or family members acting as caregivers.  

Home health care attendants include two main types: private duty nurses (providing "skilled" nursing services) and Medicare-certified home health care professionals, such as therapists and doctors.
Are Senior Home Care and In-Home Care the Same?
Yes – in-home care goes by a few different terms, including senior home care, home care, homemaker care and companion care.  You may see these used interchangeably, however they all refer to the same non-medical in home care services for seniors.
Choosing the Best Senior Home Care Provider
Understanding the Primary Providers of In-Home Care
There are three main types of in-home care providers to choose from.  As with everything health-related, the best decision will always be what is best for you and your loved ones.  
1). Family Provided Care
Sometimes the help that your loved one needs to continue aging in place are services that you and your other local family members can provide.  Perhaps your loved one is able to move around the home, bath and do some basic cooking.  However, they can no longer drive so need assistance with grocery shopping, transportation to doctor visits and help with light housework.  If you have the time and ability, this can be a great option because it will comfortably cover all of their basic needs and will cost nothing but your time.
Free (except for your time)
You may find that eventually you are unable to keep up with their demands, or they may require new services that you are unable to provide.
2). Private Nurse Care
A private nurse, or home health aide, is someone who provides everything from companionship to basic ALD and IADL duties.  They may also be professionally trained to do simple health checks for pulse, temperature, respiration, etc.  Private nurse care providers do not work for home care agencies.
You will need to thoroughly vet candidates
There is no backup in case of an emergency
May not be fully licensed
3). Agency Based Care
Home care agencies hire their own team of private nurses or home health aides.  They are able to provide you with multiple attendant options, knowing that each aging client is a unique person with their own individual needs.  Some people find they have more peace of mind going through an agency where they will have a variety of different attendants, registered nurses and home health aides to choose from.  Some agencies, such as Family Choice Healthcare, allow patients to choose their own attendants.
Ample employees in case of an emergency or when turnover occurs.
Typically provide the most comprehensive services and support the widest variety of aging adults
Price is generally highest of the three
How to Vet An In-Home Care Provider
Unlike Home Health Care specialists, attendants who provide in-home care services are not required to be certified or licensed.  Therefore, it is crucial to conduct research and thoroughly vet potential attendants and agencies.  Each type of in-home care provider has it's pros and cons, and each aging person's needs and situations are unique, so a variety of considerations will need to be made.  You'll want to ask yourself:
What level of care does your loved one need?  Is it something that can be covered by yourself and other family members, or do they need more intensive help?

Would you be willing and able to pick up the slack if you hired a private care nurse, for which there is no one to cover their shift in the case of illness or an emergency?

Does an agency fit into your budget?  If so, does the agency provide a full range of services, or are they smaller and more limited?  Is the agency experienced with any specific needs that your loved one may have, such as dementia and Alzheimer's?

Does this person or agency have a record of dependability?  Try and find reviews, or ask around locally.
Working through a reputable agency, such as Family Choice Healthcare, will help ease some of this burden as they will perform much of the initial vetting in their own hiring practices.  Family Choice vetting involves:
Preference given for Certified Nursing Assistants, Home Health Aides and Homemaker/Companions

Look for a minimum of 2 years experience in a hospital, skilled nursing facility, assisted living facility or home health agency

Key attributes that we look for include maturity, accountability and documented history of a clean criminal background

We require that all new hires participate in a rigorous orientation and quarterly training exercises
At Family Choice Healthcare, How Does In-Home Care Work For Dementia Patients?
While caring for elderly people with dementia can be challenging, there are ways to create a safe, supportive environment that allows for them to age in place comfortably in the privacy of their home.  Attendants can integrate holistic techniques in order to more effectively accomplish basic needs such as bathing, dressing, eating, exercise, wandering and more.
At Family Choice, we specialize in hard cases, difficult situations and strong personalities – handling them with grace, good humor and strong client relationships.   We provide a comprehensive Alzheimer's and Dementia Home Care program, working in collaboration with you and your loved one's medical team in order to gain a fuller understanding of how the disease is progressing.  
Our nursing staff has been trained extensively on how to manage difficult behaviors, such as:
Resistance to care

Agitation

Wandering

Fall prevention

Sexually inappropriate behaviors

Communication and memory difficulties
We are constantly analyzing and adapting as necessary, according to how your loved one's needs change and develop over time.  Another key to our success and client satisfaction is that we provide our patients with the option to choose their own attendant.  This has consistently led to greater patient satisfaction and success.
For More Information
Since 1996, Family Choice Healthcare has been a leader in quality home healthcare to elderly and disabled clients with a variety of circumstances and needs.  From assistance with ADLs and IADLs to support with medical, physical and occupational therapy, Family Choice Healthcare is committed to offering customized care that brings balance and peace to both the client and attendant.
If you feel that in-home care may benefit your aging loved one, contact us for a free phone consultation.  One of our experienced team members will be happy to assist you with any questions or concerns that you may have.  Our ultimate goal is to care for your loved one like they are family, letting them lead a happy, healthy and comfortable life at home for as long as possible.